I created these as a grain free option to pop my poached eggs on and mop up the runny yolks. These are a high in fibre with simple clean ingredients, and if you make a few ahead of time you can keep some in the freezer ready for a quick breakfast. I prefer to make mine thinner as they toast up crispier.
Ingredients for a single muffin. Multiply as needed. 
2 egg whites
2 Tbsp Coconut Flour
2 tsp Psyllium Husk
2 Tbsp water
¼ tsp salt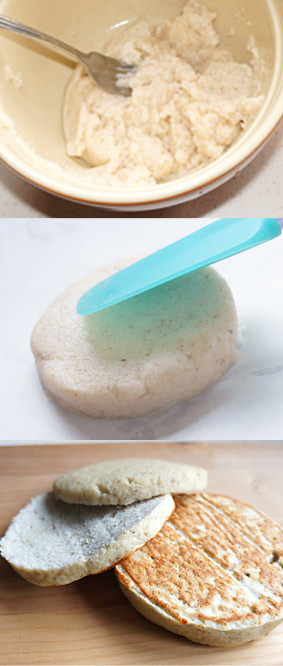 Preheat your oven to 180 degrees C, and line a baking tray with baking paper.
Add all the ingredients to a bowl and mix well.
Let ingredients stand for 5 minutes for the coconut flour and psyllium to absorb the liquid.
Drop the mixture onto the baking tray and with a spatula shape into rounds approximately 9 cm wide and 1.5 cm high.
 Bake for 18 minutes.
 To serve simply slice in half and pop in the toaster.
Paleo ✓   Refined Sugar Free ✓
Gluten Free ✓ Nut Free ✓
Vegetarian ✓ Soy Free ✓
Low FODMAP ✓ Dairy Free ✓
Egg Free X Raw X  Vegan X